In case you missed it, check out Part 1 of the story of the Trails at Jakes Rock.
Prior to constructing the first phase of the Trails at Jakes Rock, there were no purpose-built, mountain bike-specific trails in the vicinity of Warren, Pennsylvania. Locals had only two, far less appealing options: ride legacy hiking trails or pedal on Forest Service ATV trails - neither made for a great mountain biking experience.
Fortunately, upon the successful completion of Phase I - including just under 10 miles of fun, sustainable, natural surface trails - it was soon time for Phase II, another 8.53 miles of trail also built by Dirt Artisans.
To date, Dirt Artisans has had to work around house-sized rocks, a waterfall, a half dozen springs and two designated wetlands. They've built 1.5 miles of elevated bridges and done 0.75 miles of rock armouring along their otherwise completely natural surface trails. The resulting trail system is rideable year-round in a variety of conditions. Impressively, both phases were completed on time AND under budget.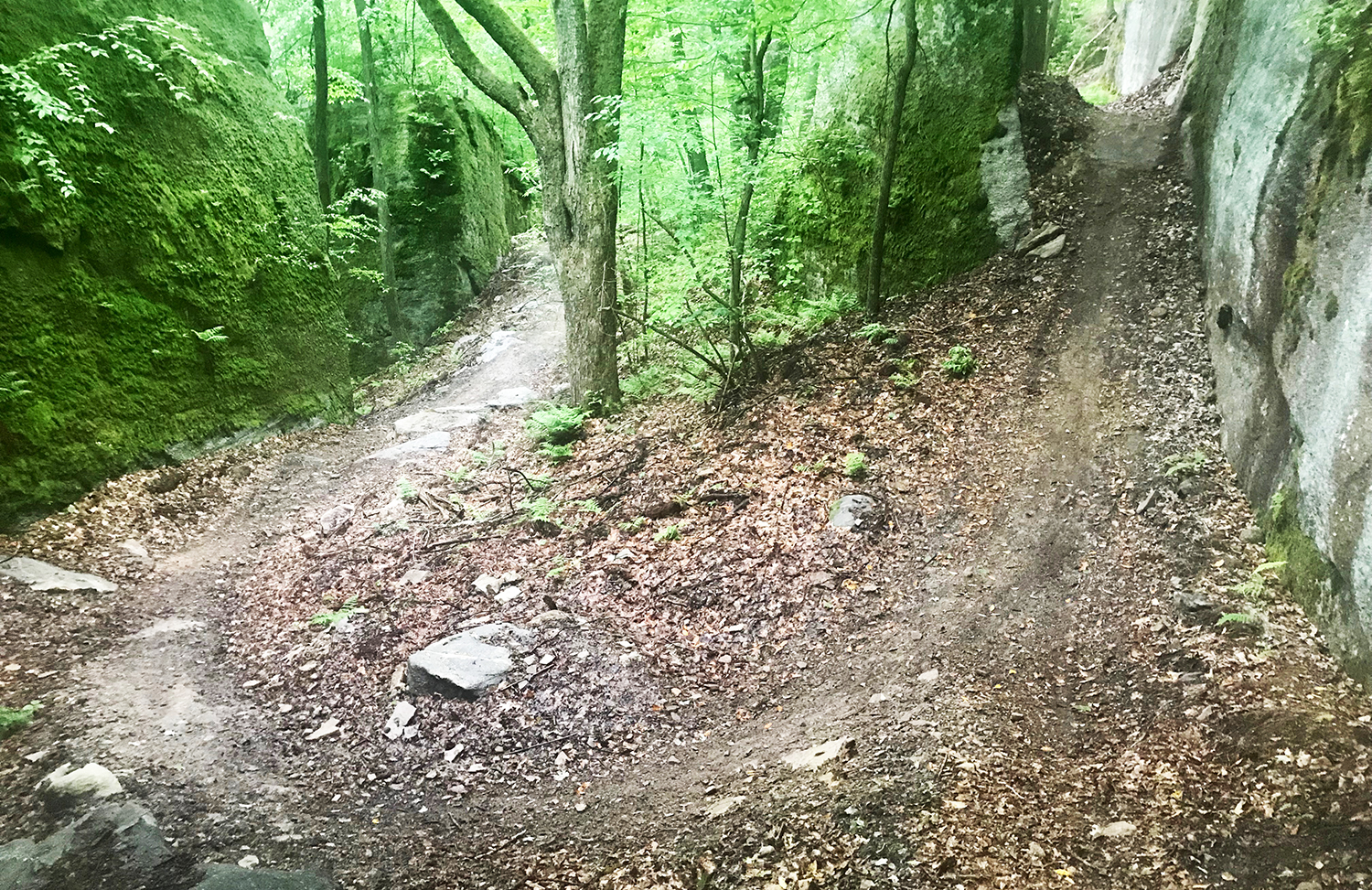 "We originally picked Dirt Artisans to build the trails because they were the lowest responsible bid, and they've continued to win the bid to construct each subsequent phase," said Jim Decker, President of the Warren County Chamber of Business and Industry. "Chad Irey has proven himself to be an amazing trail builder. He interfaces so well with our community and the Forest Service, and he gets what we are and aren't looking for. Over the years that we've engaged him, he's created a level of trust. His workmanship is never in question. Truthfully, we're a little nervous to go into the next phase… what would we do if we lost Dirt Artisans because someone else bids lower?"
Fortunately, that won't be a problem for at least a little while longer. Dirt Artisans is slated to build 9.5 miles of trail for Phase III throughout the summer of 2019.
"This summer, we'll up the ante even more," said Chad Irey, Founder and President of Dirt Artisans. "We feel like we've done an A+ job so far, but we want to top ourselves and do even better. It's not about building harder trails or creating some crazy Instagram shot. User opinion will be our measure; we want to hear riders say it's been the best phase built to date. If we hear that, we succeeded because when the user is happy, they go off and tell their friends to come ride here, too."
Measuring Success
With just under 20 miles of trail completed, Jakes Rocks is seeing about 15,000 people per year coming to the trails to visit according to Decker. Riders are making the journey from as far away as Canada.
"Everything that we were told would happen is coming to fruition. The Trails at Jakes Rocks is the busiest non-motorized trail system in the Allegheny National Forest by a factor of six in terms of user numbers," said Decker. "Business development-wise, we've seen a 50% increase in bike shop sales, and the shops are adding employees, rental bikes and new lines of bikes for sale. Even restaurants are admitting that they're seeing more traffic from visiting riders coming to eat. It's been a win-win across the board."
Besides building more miles of trails, what's next for the Warren County Chamber of Business and Industry is working with local businesses to help them provide more different kinds of services sought by visiting mountain bike tourists.
Converting the Converter
Among those mountain bikers packing the 50-car Jakes Rocks parking lot every week to enjoy the fruits of Dirt Artisan's work is Jim Decker. It turns out that the very trails that Decker helped champion ended up converting him - and his wife - into mountain bikers.
"I was a road biker and always thought that mountain bikers were crazy, but now I ride my mountain bike twice as often as my road bike," he said. "What has appealed to us is the camaraderie and social side of mountain biking."
Decker joked that the Trails at Jakes Rocks turned out to be a much more expensive project for him than he had anticipated. Both he and his wife ended up deciding to invest in nice mountain bikes to enjoy their newfound hobby even more.
With so many people buying into the developing trail system, the Trails at Jakes Rocks has grown to host a mountain bike festival and a race. Only time will tell what else lies ahead for the burgeoning new mountain bike community in Warren County.