Chad Irey used to spend his work days managing multi-million dollar construction projects and his free time riding and hiking and taking care of his local trails as a volunteer. He had gotten into construction as a skilled carpenter, and over time, his jobs and responsibilities grew, eventually morphing into a time and energy-consuming commercial construction career. He found himself tied more and more to his desk, and he missed being outside and working with his hands. So when the opportunity arose to work as a professional trailbuilder doing more of what he loved, he jumped on it, and Dirt Artisans was born.
Planting the Seed
Irey has been playing with and in the dirt since he was a boy. "When I was seven, I started building dirt jumps for BMX bikes in my backyard," said Irey. "Of course, I wasn't thinking about sustainability then. My friends and I just wanted to huck our bikes through the woods."
As he got older, his "backyard" expanded. He explored the area around him on foot and on bike, and gained a strong sense of how a trail should feel. "When I'd hike or ride, I'd always think about the trails and how I would have laid them out differently," said Irey.
Irey gained still more trail experience as a volunteer trail coordinator for his local trail system, Devou Park, in Covington, Kentucky. He recruited and coordinated other volunteers to maintain existing and build new trails. His efforts did not go unnoticed; people told Irey that he had a natural talent for laying out and building trails.
"One of trail projects I was coordinating got a lot of recognition, and I started getting calls to come look at other trail projects," said Irey. "I replied that I couldn't take on another project for free, but they said that they'd pay me. Because I was self-employed, working in residential and commercial carpentry, I already had everything I needed set up business-wise to say 'yes', so I did."
As interest in Irey's fledgling trailbuilding business grew, he consulted his accountant about the best way to handle it. The accountant told him to open up a new business to separately track all his trailbuilding work.
"It's funny - I already had a name picked out. While I was a volunteer trailbuilder, people had picked up on the sinuosity of my trails and told me that what I was doing was like art, and I had always felt like I was making dirt art. So instead of calling my new business Chad Irey Trailbuilding, I decided to call it Dirt Artisans. At the time, I had no idea that trailbuilding would be a full-time thing or that I would end up with a half dozen employees and a bunch of equipment."
The Art of the Project
Irey brings a vast amount of experience in the residential and commercial construction world to trailbuilding. He's done everything from sweeping the floors of cabinet-making shops while in high school up through managing multi-million dollar projects for a subcontractor. His jobs have been as simple as installing a front door for someone's house to as complicated as building high rises.
"I've been in construction my whole life so I understand how the nuts and bolts of a project go together. I understand the sequencing of a project. For example, when you build out a kitchen or do an office remodel, you have to start with a plan, then you do demolition or begin with the footers. There is an order of doing things, and you have to have a process for doing it."
He also has plenty of experience dealing with people and schedules. No matter what the industry, projects are projects and people are people. Sometimes, things go well, sometimes they don't. Being able to keep cool and forge ahead as challenges arise are an essential part of any construction project.
"I naively thought that the trailbuilding world would be void of fire drills, but there are, in fact, still plenty of them," said Irey. "I chalk that up to human nature. Some people just have to make things hard."
But it's also people who make Dirt Artisans successful. Irey hires talented employees who are trained to do a variety of trailbuilding tasks and who are motivated to work together to complete projects.
Digging In
Irey likes to think of Dirt Artisans as a meshing of his business experience from the cutthroat commercial construction industry and his natural proclivities and vision for creating trails.
Before any trail can be built, it has to be designed. "Successful trailbuilding is 80% vision. We can teach people how to run excavators, but not everyone can layout a trail," said Irey. "I'm lucky in that I can walk through the woods and visualize where a trail should go based on whether it will be beginner, intermediate or expert level."
Dirt Artisans has designed and built all kinds of trails for a variety of types of users since its inception, yet Irey doesn't hesitate when asked what kind of trails are his favorite to build: multi-use mountain bike trails.
"I'm not talking about flow trails or what you find at most bike parks. I like to build multi-use trails with some bike flare – the kind that mountain bikers will love, but so will trail runners and hikers," said Irey."
"My second favorite type of trails to build mimics the old-school, CCC-built trails that everyone loves in places like the George Washington National Forest. There is something about taking our modern equipment and still building those old school trails in modern times."
To date, Dirt Artisan's most challenging trailbuilding effort has been the mountain bike-specific Trails at Jakes Rock. Now in Phase 3 of a multi-year project, nine Dirt Artisans staffers are building nine miles of trail in just four months. Given all the water and rocks en route, the new trails will include 1,100 linear feet of bridges and 1,700 linear feet of rock armoring. (Read more about the Trails at Jakes Rocks).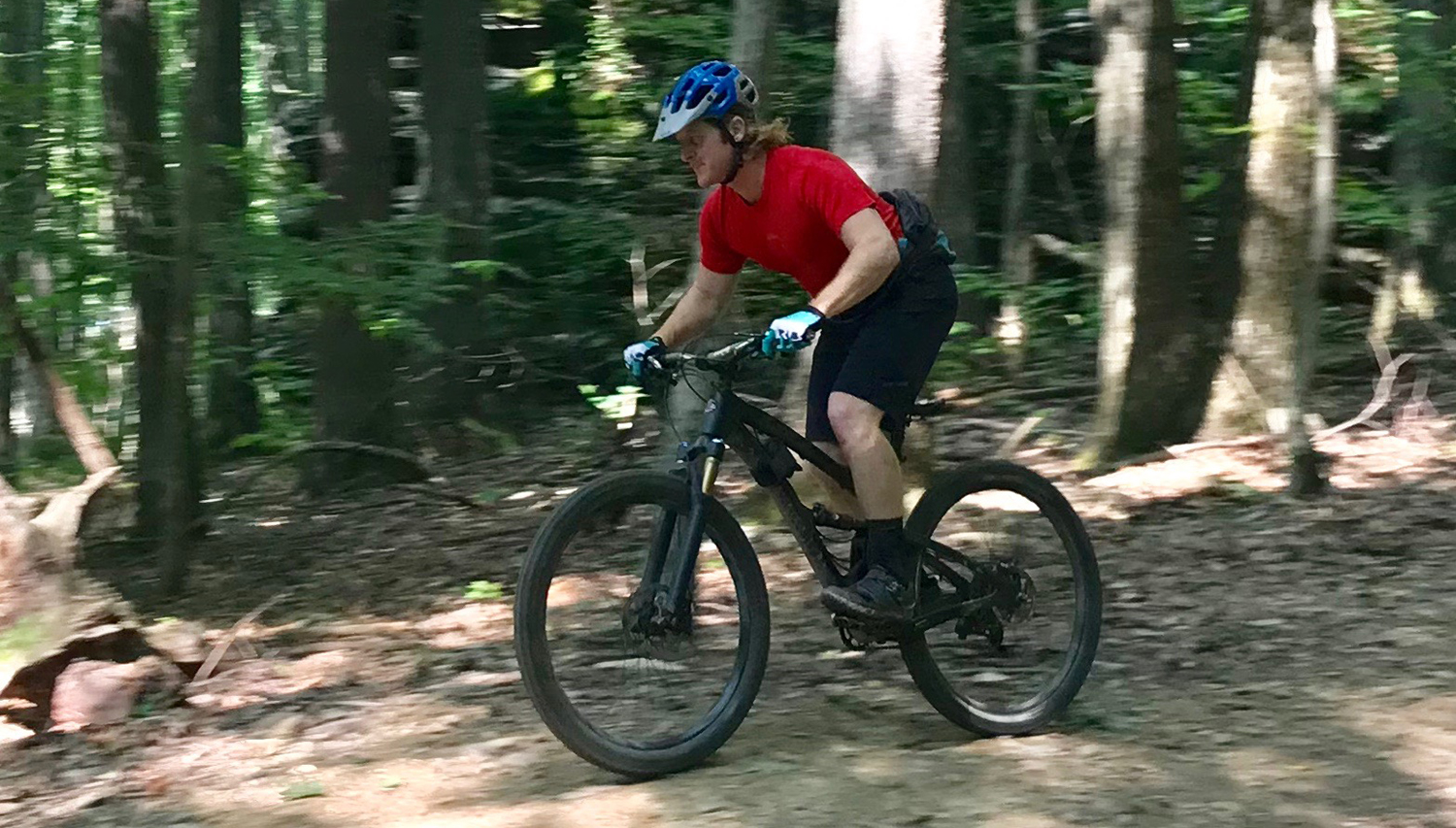 Labor of Love
On a typical day, Irey delegates assignments and get his one or two crews rolling, making sure everyone has what they need. Like any small business owner, he'll fill in doing whatever needs to be done. He deals with the inevitable issues that come up with their equipment, all the while making sure all the paperwork is done, the taxes are paid and the clients are happy. He maintains the vision for each project and keeps them on time and on budget.
It's a lot to juggle, but when you're doing something you love, it's worth it.
"I feel a huge sense of accomplishment at the end of each and every day, and then again at the end of each project," said Irey. "It's so rewarding to get good feedback from the trail users who are pumped on what we've done."