Whether you're an occasional volunteer trail worker or a professional trail builder, it's important to have good tools. If we had to pick just a few hand tools to take with us for a day of trail building or maintenance, we'd bring these trusty favorites: a clinometer, an adze hoe and a folding hand saw.
"Technically with just these three tools that you can get for about $225 total, you can construct an entire trail," said Chad Irey, President of Dirt Artisans, a company that specializes in building world-class natural surface trails. "Sure, we have lots of other tools, too, and they're helpful, but these are the most essential hand tools. We used them back when we were just getting into trailbuilding, and we continue to use them every day."
As with all tools, you have to learn how to use them, and that takes time and practice. Realistically, it can be weeks or even months until you acquire the skills to be truly efficient with any specific trailbuilding tool.
And for those of you who have aspirations of one day also building trails with machines, acquiring skills with hand tools is the perfect way to start. "To be a good trailbuilder, you need to learn how to efficiently lay out trails, cut trees and branches and move earth with hand tools before you ever get to working with machines," said Irey. "Fortunately, what you learn by hand transfers well to working with machines."
Tool #1: Clinometer
An essential tool for accurately laying out new trails, rerouting existing trails and properly building drains, the typical clinometer is about the size of a deck of cards.
"It's a $120 easy-to-use tool that will save you up to $10,000-$20,000 over the life of it," said Irey, who suggests clinometers made by Brunton. "It takes the guesswork out of grades to ensure that your trail tread is a user-friendly steepness that is also appropriate for your local soil type."
Proper use of a clinometer helps you keep average and segment grades to spec and put the correct positive sloping on drains.
Pro Tip: There's no single correct grade for building trails and drains, so be sure to build sustainably for your area. For example, Michigan's sandy soil generally dictates lower average (~5%) grades while Pennsylvania's rockier soil allows steeper grades (~10%) because it's more likely to stay put when it rains.
Tool #2: Adze Hoe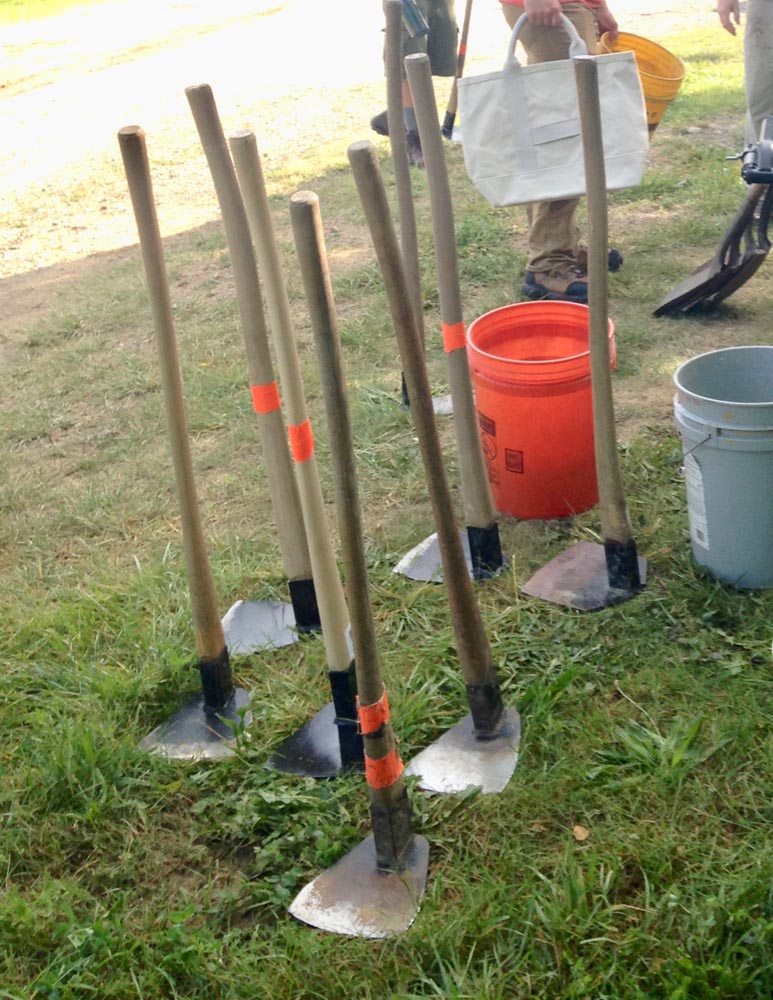 This ancient tool was used for many purposes, including by Indians to carve canoes out of logs. Today, trailbuilders employ the adze hoe for a variety of different tasks. At Dirt Artisans, we prefer the version from Rogue with a curved hickory handle and a seven-inch head, which sells for about $65-$75.
"It's a lightweight and durable tool that you can use it for everything from shaping up your favorite berm to building your next rock garden," said Irey. "Its wide head easily moves quite a bit of dirt and works well for tamping. You can also use the adze hoe like an axe to cut out roots and small trees. It's good for prying rocks and pulling them or moving them into place, and you can even turn it over and use the butt end to crush rocks which can then fill in voids between larger rocks."
When you're not using it for trail work, it's also super convenient to have around the house. Many homeowners use an adze hoe in their garden and for weeding and edging flower beds.
In fact, we've been such advocates of this tool that some of our trailbuilding friends in other parts of the country have started referring to it the "Irey hoe" after we left some behind with them, and they started to use and love them.
Tool #3: Folding, Curved Hand Saw
The bang for the buck on this razor-tooth saw with a locking blade is hard to beat. We prefer the version from Corona with an 10-inch blade for ~$25.
"We've cut out 20-inch diameter trees with it, and while that's not something you want to do every day, you can if you have to," said Irey. "What's great about this saw is that it cuts on the pull and the push. It's lightweight and durable and has a comfortable plastic handle that's red, so if you set it down in the forest, you'll still be able to see it. We've accidentally run over them with our excavator, and they don't break. The reality is that we tend to lose them before we break them."
Besides cutting trees, the saw doubles as a machete, and thanks to its relatively small size and locking blade, it's easy to tuck in a jersey pocket or hydration pack to take along with you on rides so you can cut out downed trees that have fallen across the trail en route.