For nearly half a century, residents of Centre County, Pennsylvania enjoyed fishing and paddling at Colyer Lake. Then in 2013, the Pennsylvania Fish and Boat Commission announced that it was going to permanently drain the lake due to structural issues with the dam. Having deemed Colyer Lake a low priority for repair, officials planned to allow it to renaturalize.
For those living around the scenic 67-acre lake, that news was hard to swallow. Too hard. One local resident, Tom Kistler, immediately felt that he had to do something. Little did he know at the time, he was about to start a project that would not only save the lake, but also result in the creation of a brand new, multi-use trail around the lake that would become extremely popular.
"I created Save Colyer Lake, Inc., and we worked with the PA Fish and Boat Commission, legislators and Potter Township to move the project forward," said Kistler, who has served as President of the organization. "We were successful in both getting the necessary funding and actually getting the project issued."
See more about the Colyer Lake project
History
In 1966, the Commonwealth of Pennsylvania built a dam just outside of State College, which is home to the Pennsylvania State University's Main Campus. Once the lake was filled, it covered 67 acres – too small for speedboats, but perfect for paddling and fishing.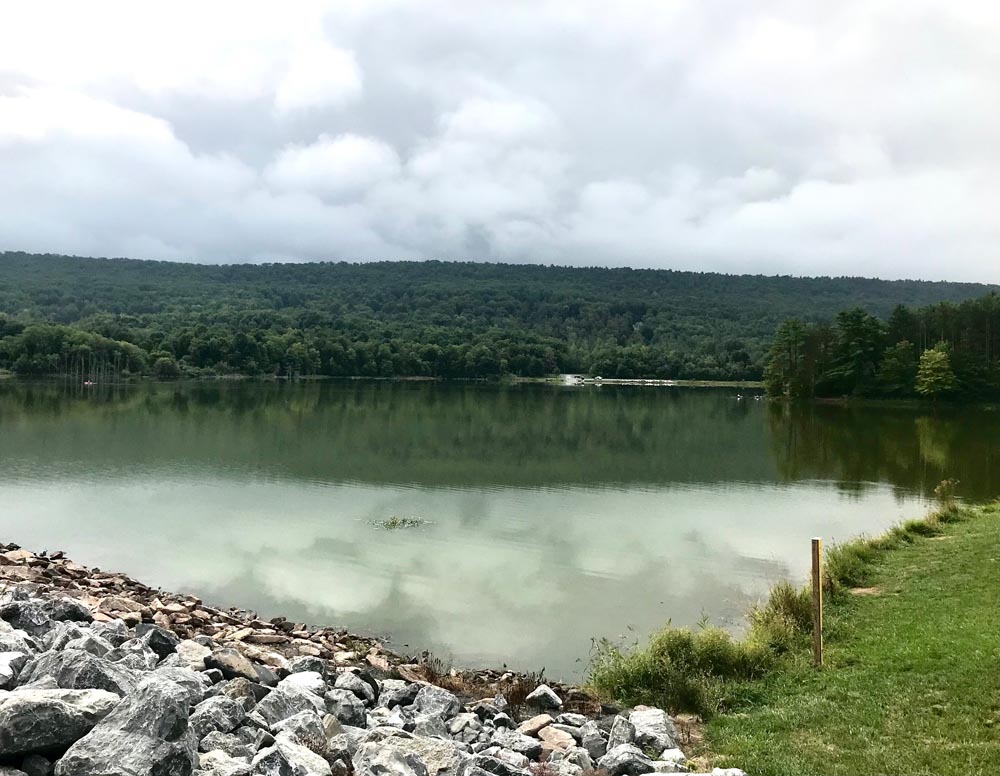 "After 50 years of use, the dam had some issues, so in 2004, the authorities dropped the level of the lake by 10 feet. Then there was less pressure at the spillway and less leaking," said Kistler. But just lowering the lake's level wasn't enough to compensate for the dam's issues in the long term. That's why in February of 2013, the PA Fish Commission announced that they would empty the lake for good.
After Save Colyer Lake, Inc. raised sufficient funds for the dam repair project, and all the right local and state authorities signed off on the project, construction began in 2014. Two years later, in 2016, the dam was restored, and the lake reopened.
A Trail Is Born
There was money leftover after the dam rehabilitation project, so Kistler, who is an avid local mountain biker and hiker, wondered if that money could go toward building a perimeter trail around the lake.
Getting a new trail implemented wasn't a straightforward process. First, the land immediately around the lake had to be leased by the state of Pennsylvania to Potter Township, which would oversee the project and future trail management.
Next came the trail design and construction.
"We engaged a local trail designer and then put the project out for bid," said Kistler. "We picked Dirt Artisans to build what would become a 2.5-mile trail circling the lake."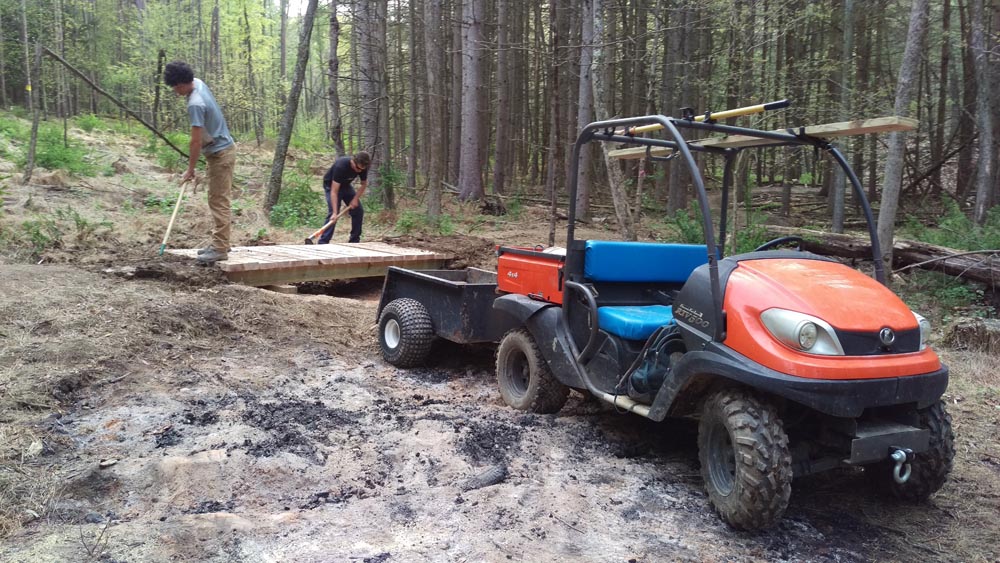 Trail construction began in April 2017 and finished up in July of the same year. "Dirt Artisans came to build the trail exactly when they said they would come, and they came with a full crew devoted to the project," said Kistler. "I enjoyed working with Chad and his crew on the Colyer Lake project."
When asked what he had learned from the project that could be useful to others, Kistler said, "What landowners and prospective trail project managers should know about trailbuliding is that the trailbuilders are people who really make a trail come alive, and it's important not to overmange them."
The completed Colyer Lake trail features an average grade of 2% and a max grade of 10%. Over the course of the rolling loop, which winds through trees and meadows, there's 110 feet of elevation gained and lost.
"The trail is now a great resource for the county. It's fun to walk or ride in both directions, and it's hugely popular," said Kistler. "Hundreds of people use it every day during the warm season."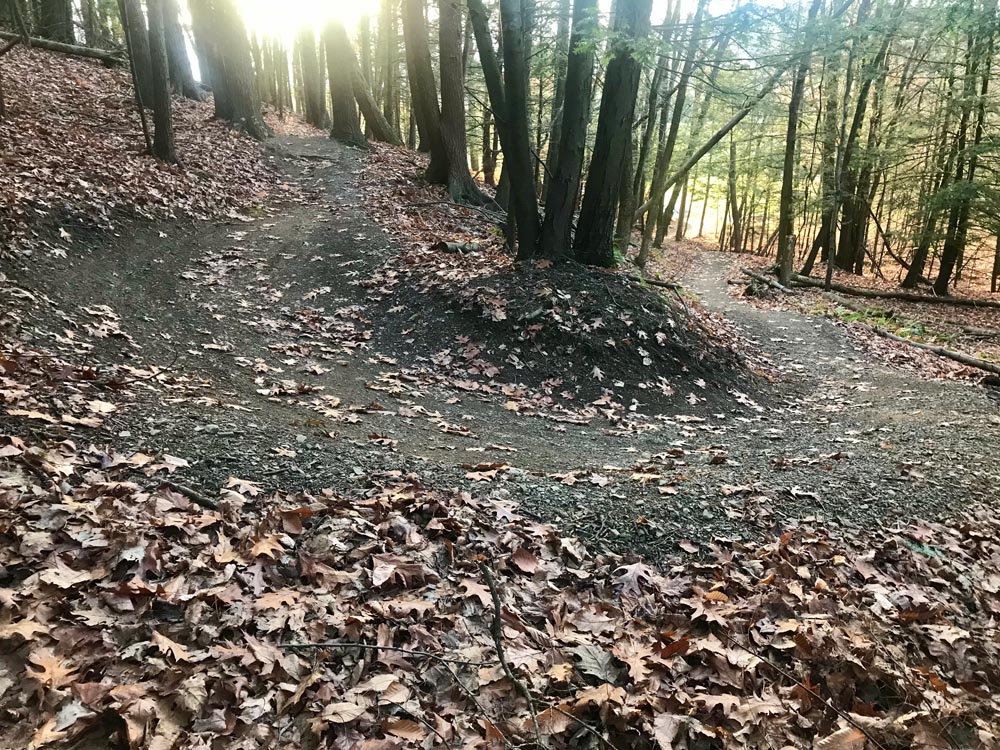 Fitting In
Colyer Lake is adjacent to Rothrock State Forest, which is popular for all kinds of outdoor recreation, and that popularity goes beyond local interest. Mountain bikers, for example, frequently travel to the area from all over the Mid-Atlantic region.
Rothrock State Forest is famous for having a large network of challenging and often very rocky, technical trails. What it lacks are many trails that are suitable for beginner mountain bikers.
"The area around State College is a hard riding area," said Chad Irey, President of Dirt Artisans. "What's so great about the Colyer Lake Trail is that it's a beginner-friendly trail, which makes it more accessible to more different people."
Given its proximity to Rothrock State Forest, it's also a great connector. "It ties nicely into the existing nearby network of trails," said Irey.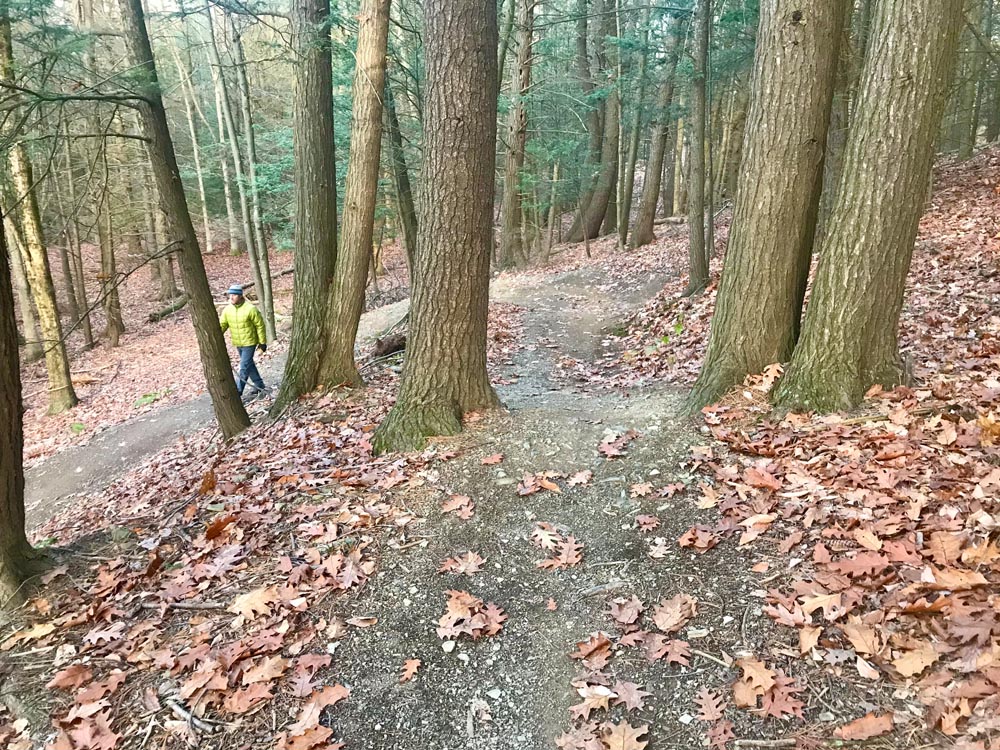 It's All About the Experience
On any given day when the weather is good, both parking areas by the lake are filled with cars. Individuals, friends and families come out to ride, trail run or simply walk around the lake. People start arriving before work for a quick, early morning outing, while others swing by later in the day for some quality, outside time after work.
The relatively wide, smooth trail allows for good sightlines and easy passing. The twists and turns take advantage of the lay of the land and create a feeling of flow, whether on foot or on bike. The trail isn't flat; instead, its gently rolling terrain makes it all the more enticing. En route, there are plenty of spots to stop and view the lake or simply sit and take a break on a bench.
"It's turned out to be a great multi-use trail that anyone can use," said Irey. "After all, there aren't many 2.5-mile trails that go around a lake. Putting in the trail has made it more possible for people who don't have a boat or kayak to enjoy the lake, too."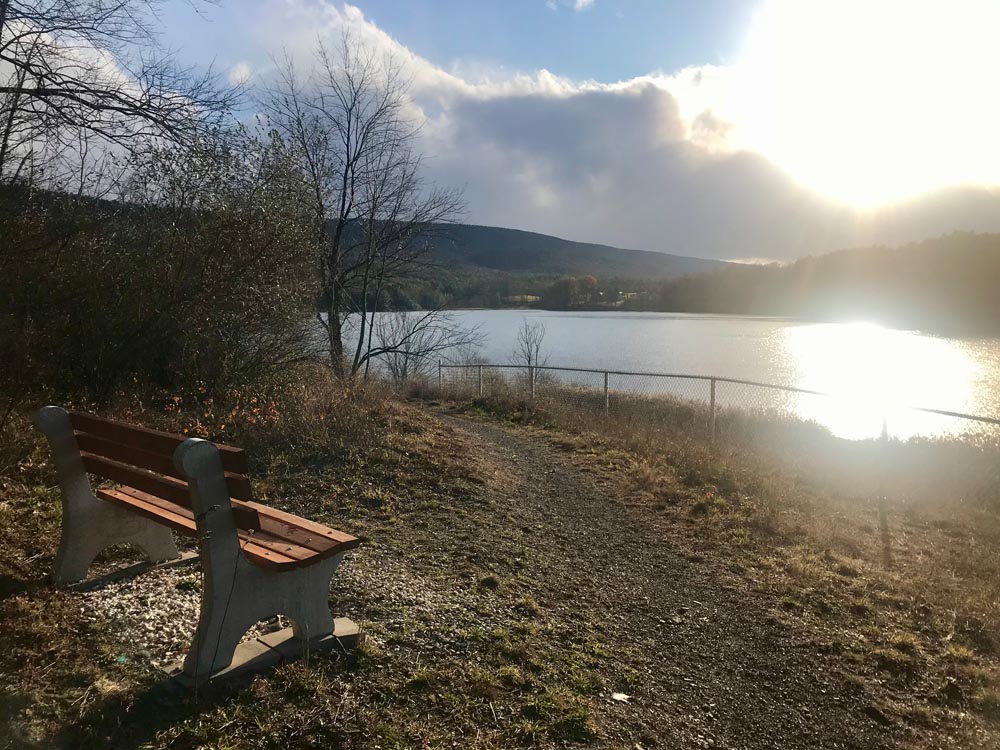 What's Next
While there is no more room to build additional trails on the small section of land immediately surrounding the lake, plans are in the works to install bridges on three sections of the trail where large stepping stones currently enable users to cross waterways feeding into and coming out of the lake.
"So we could initially complete the trail, we placed some boulders to create water crossings," said Kistler. "But they're not easy for everyone to negotiate, so now we're in the process of a more permanent solution: building bridges to replace them. The permitting process is long and complicated, but we're working through it."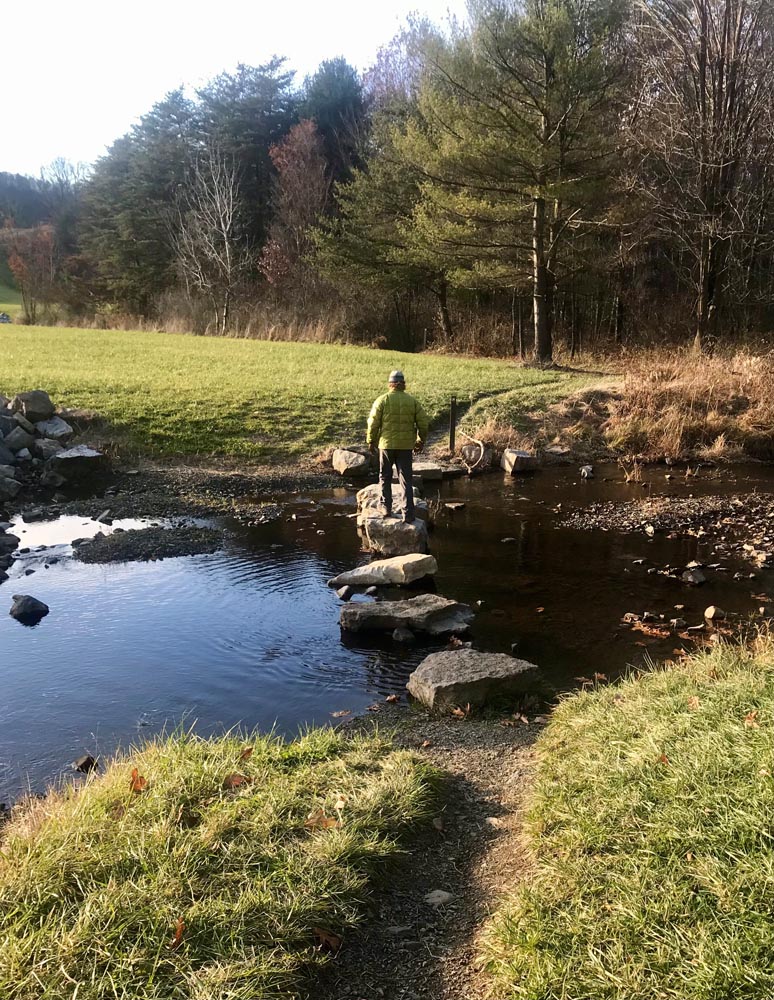 Thanks to all the past and ongoing efforts of Save Colyer Lake, Inc. and Dirt Artisans, the future looks bright for people to continue to enjoy the lake for at least another 50+ years.