Over the years, Sara Gatewood has gone from being an occasional trail work volunteer to being a professional trailbuilder. Today you can find her working for Dirt Artisans - both on the trail and in the office; she wears multiple hats. Sometimes, that means spending all day outdoors in the field, mostly hand finishing trails. Other days, it means hours in front of the computer, tracking and taking care of essential company administrative tasks.
"What I love about trailbuilding is being outside and in nature," said Gatewood, who calls Covington, Kentucky home when she's not on the road traveling elsewhere to build new trails. "I like working hard and feeling like I've done a full day's work of being physically active. I love seeing how there was nothing through the trees, and then as the crew moves through the forest, there is an awesome trail flowing through the terrain."
During the busy season, Gatewood, whose official title is Administrative Officer & Trail Specialist, spends four to five days per week outside building trails. That often involves clipping roots, using a rake, a hoe and a handsaw and generally working behind the machines to finish shaping the trail after the machines have gone through.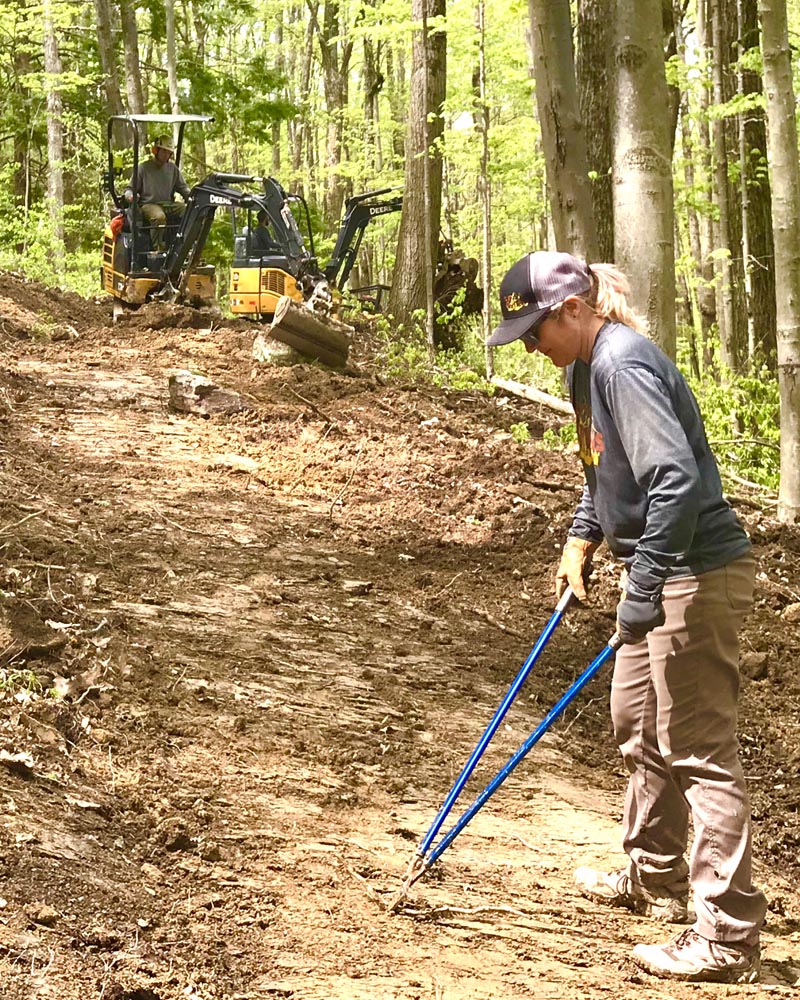 When she's in the office, Gatewood takes care of a majority of Dirt Artisans' administrative tasks including coordinating employee hiring, training and recordkeeping; payroll processing; taking care of vehicle and equipment registrations and maintenance; and researching and ensuring compliance with Department of Transportation (DOT), Federal Motor Carriers Safety Administration (FMCSA) and all other state and federal regulations. She also coordinates and books housing for Dirt Artisans' crews on the road; ensures that sufficient food prep, cookware and other supplies are always on hand during projects; communicates with subcontractors; and handles most of the company's social media and website updating.
Where It All Began
Nearly a decade and a half ago, Gatewood, who is now 50, met Dirt Artisans' Founder and President, Chad Irey, who was just starting to get the Devou Project off the ground.
"I was around for that whole process from when he got approval from the city to when trails were being laid out and built and maintained," said Gatewood. "At the time, I was already a trail runner, and I liked to be in the woods and on the trails, so I would go to the volunteer days."
As Irey himself morphed from volunteer trailbuilder to professional trailbuilder, he was on the road more and more often. Gatewood, who did not travel for her job at the time, stepped up to fill in the gaps.
"I took over communications for the monthly volunteer trail work days, and on the trailwork days, I'd bring the coolers of beverages and snacks to help support all the volunteers," she said. "Because I was at the park anyway several times per week, I kept an eye out for trees that had blown down and any other necessary work that was needed. Sometimes I'd weed whack trails or do other maintenance on my own."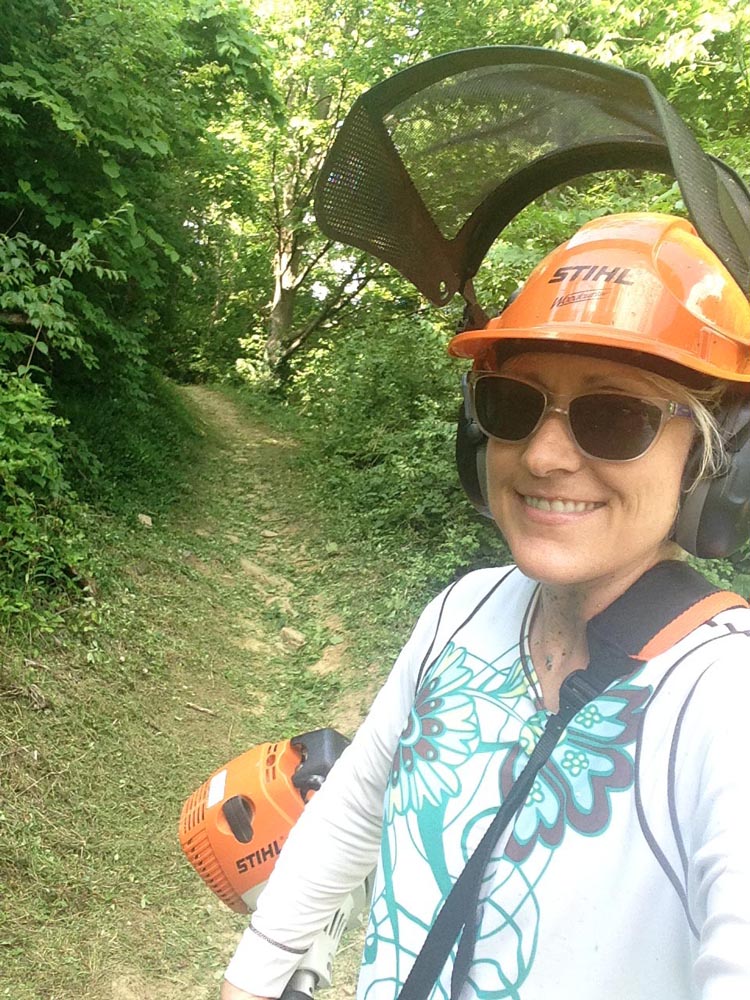 Making the Leap
Despite her penchant for being outside and building trails, Gatewood didn't actually make the move into professional trailbuilding until April of 2018 because she was busy working a very different kind of full-time job.
"For more than 30 years, I worked with mentally challenged adults in their home setting," she said. "I was with the same company for 24 years, and I even worked with some of the same clients during those entire 24 years - they became like family. But it's a profession that is emotionally challenging, and many people can't stay in it for nearly that long because providing direct care can be so hard."
When Irey decided that he wanted to bring someone onboard to help him with the inevitable and ever increasing amount of administrative work, Gatewood was a point in her life when she was ready for a big change. She knew that she could not only take care of the required office duties but could also help in the field when not needed in the office.
"I feel like I retired from my first career at age 49, and now I'm doing a different career, but they aren't that different," she said. "I've always wanted to be helping people, and this is just doing that in a different way. I'm still involved in a vocation that promotes healthy and happy lifestyles."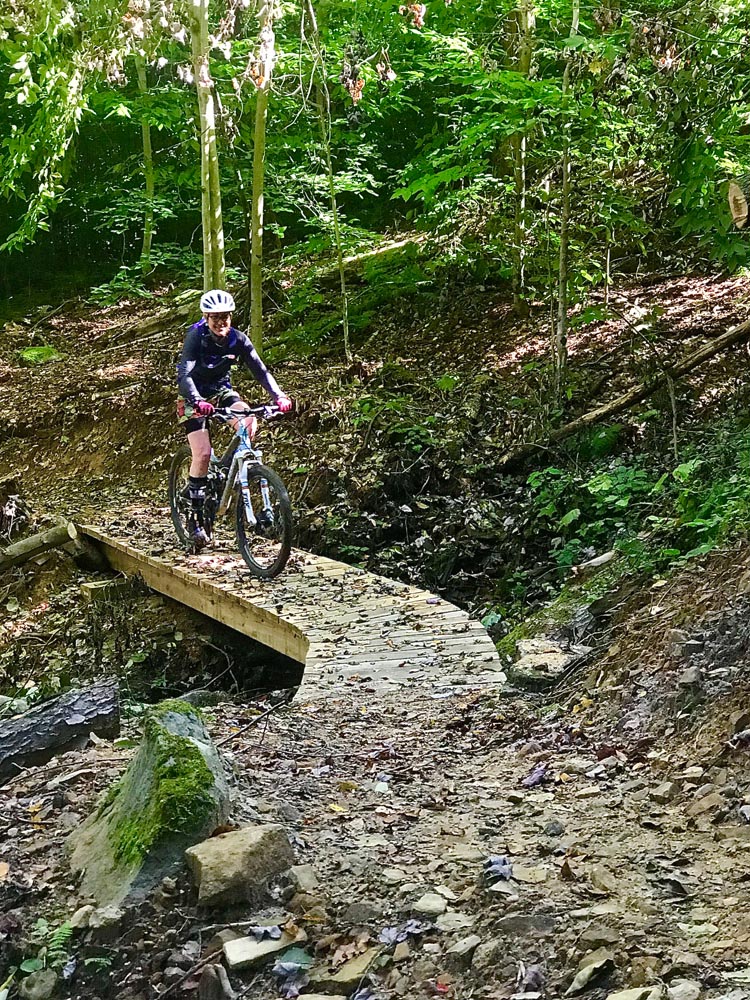 In her former career, Gatewood managed arranging and taking between seven and 14 mentally challenged adults to all of their doctors' appointments, work meetings and social activities. She made sure their home's finances were in good order and that there was always enough money for groceries and supplies. She helped them with vacation and other travel planning and managed the staff needed to support the Individuals and their home.
"I was always aware of time management and tasks that needed to be done. I had to be very organized and self-disciplined to take care of everything for everyone," she said. What I brought with me to Dirt Artisans is an attention to detail that is useful for paperwork and budgeting in my current role. Every time I learn about something new that has to get done, I organize and keep track of it, so that we continually remember to do it and update it as needed."
She also brought with her 20 years of experience in hiring and managing employees which is beneficial to the ongoing progression of Dirt Artisans.
Keeping It All In Balance
Every day, Gatewood faces some interesting challenges. After all, she's a 50-year-old woman working in a male-dominated trailbuilding and construction industry, often among fellow co-workers who are technically young enough to be her children. But none of that phases her.
"Most people are surprised by my age, and once they learn it, they sometimes joke about it, but I don't think there is anything that they really think that I can't do," she said. "They see me out there with them every day doing whatever needs to get done - just like them. Yes, sometimes it can take me a little longer to do certain tasks because I'm not as strong, but I take care of my body so I can continue to work in the field, and when I need help, I just ask."
Her daily field work strategies are exactly like those of many other trailbuilders: pace yourself, take breaks, drink plenty of water, pack and eat enough food. When she's doing physical labor, she'll swap out specific tasks, mixing up leaf blowing and raking and clipping and not doing too much of anything for too long of a period of time.
"Sometimes, I even get in a mini-excavator, which is something I'm just learning how to run," she said. "Yes, it's different because you're not standing - you're sitting. But you're also more on edge and alert."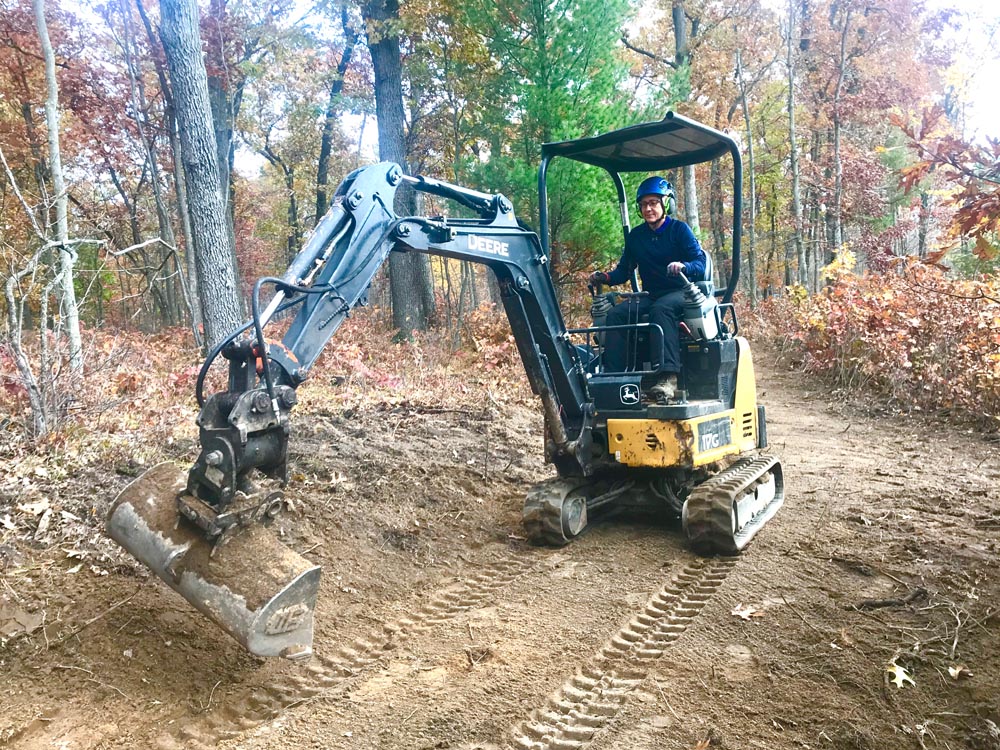 Gatewood noted that when it comes to working among more men than women in her newly adopted profession, it's something she just deals with.
"I don't know if I can say it's a challenge or an obstacle. Yes, it's something I'm aware of, and sometimes the (typically) men working at the hardware store when I'm sent to go get something don't quite know what to do with me, but the reality is that Dirt Artisans is inclusive and has always had females involved - either as subcontractors or as staff. Some days this summer, our crews were close to a 50/50 split for men and women."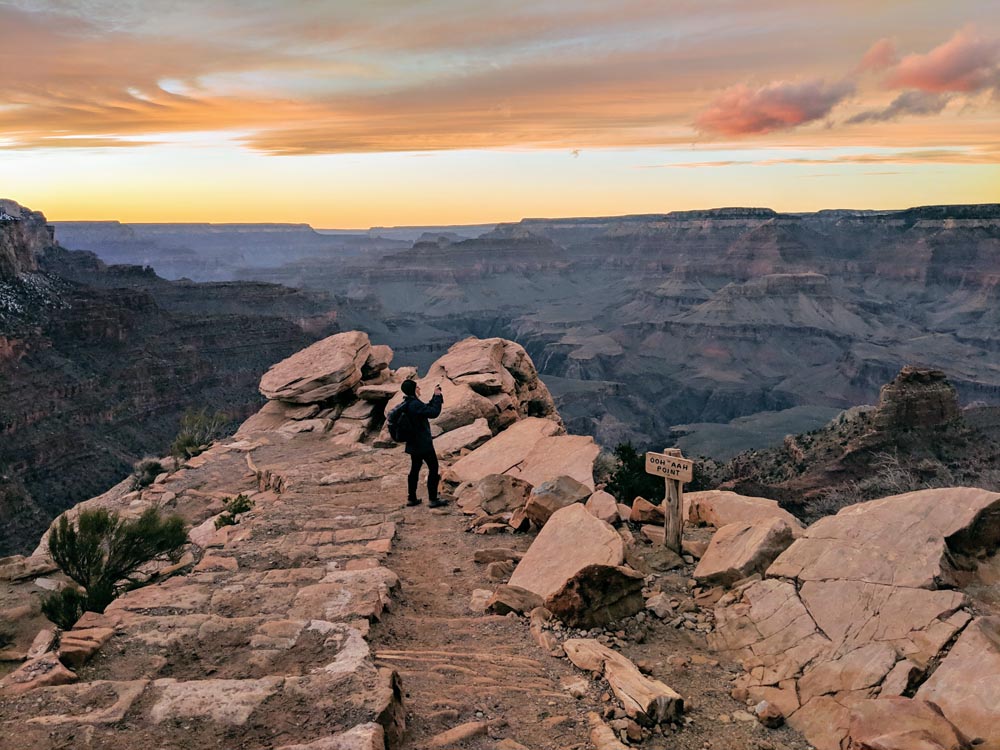 When she's not helping build trails, Gatewood enjoys hiking, running and mountain biking. She likes traveling, especially exploring unique places like the Grand Canyon, mountains and interesting rock features. Having not lived in the same place as her family since she was 20, she relishes any opportunity to travel and spend time with family between projects a few times per year.